Frequently Asked Questions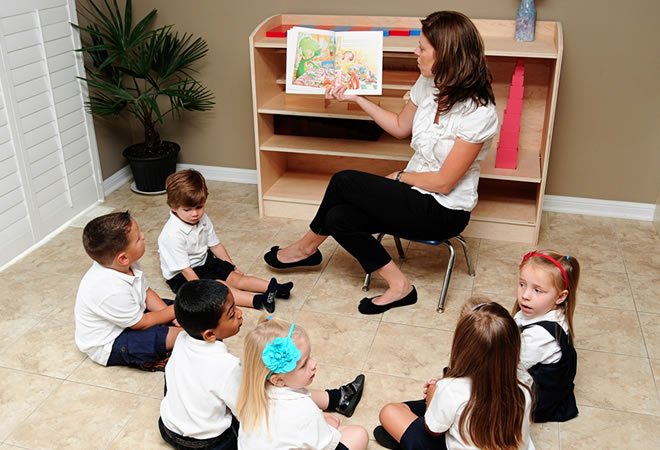 What is the difference between Montessori and traditional education?
Montessori emphasizes learning through all five senses. Children in Montessori classes learn at their own individual pace and according to their own choice of activities. Learning is an exciting process of discovery, leading to concentration, motivation, self-discipline and a love of learning.
What is the importance of a three year age mix in a Montessori classroom?
The three year age mix promotes an environment where the younger children learn from the older ones and the older children act as mentors and leaders.
Is Stirling Montessori Academy tuition tax deductible?
Our school is a licensed private school operating under the Ontario Ministry of Education. For dependants up to the age of Senior Kindergarten, 100% of tuition is tax deductible.
Do children wear uniforms?
Yes we have uniforms. They are sold from our school office.
Do you provide lunch?
Full-day children are enrolled in a mandatory 'catered lunch' program where a hot lunch will be provided daily. Students in the Elementary Program bring their own packed lunch.
Do you provide snacks?
Yes we provide a healthy snack each morning and afternoon. Elementary students bring their own morning and afternoon snack.
Where are you located?
We are located in the newly renovated St Paul's Parish at 123 Main St E, Milton, Ontario
What are your program hours?
Our full day program starts at 8:45 am and ends at 3:30 pm. Our morning program runs from 8:45 am until 11:30 am. Our afternoon program runs from 12:45 pm -3:30 pm.
Do you offer before and after school?
Yes we offer extended hours programs that run starting at 7:30 a.m. until 5:30 p.m.
What age do you need to be to attend?
Children can start our programs at 2 1/2 years of age if they are fully toilet-trained.
Do you offer recess?
Yes children engage in outdoor recess daily.
What is the teacher to student ratio?
The ratio is 1 teacher to every 8 to 10 students depending on the ages of students in the classroom.
Are your teachers Montessori trained?
Yes our teachers are fully accredited Montessori teachers.
Do you have Montessori Materials in the classrooms?
Yes each of our classrooms is fully equipped with authentic Montessori materials.
Do you operate year round?
We run on our school on a ten month calendar operating from September until June. We offer both Summer and March Break Programs.