Programs & Curriculum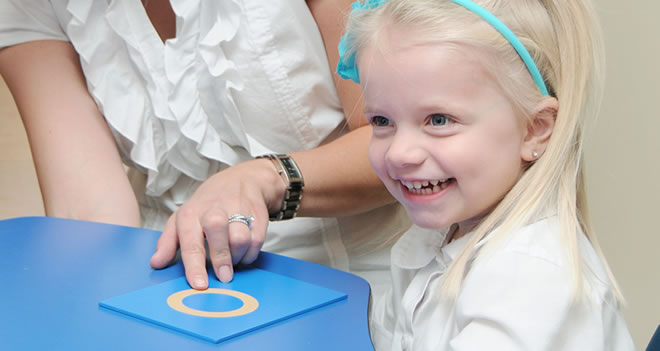 Stirling Montessori Academy offers a variety of programs. Our newly renovated space is a family oriented setting, providing all our students with a nurturing environment with a strong emphasis on the Montessori Method. The Casa program is offered to children from 30 months of age. Children are to be fully toilet trained and able to use the washroom independently to begin the Casa program. Each classroom is fully equipped with Montessori materials as well as fully trained Montessori teachers. At this level the classroom is a prepared environment, created to stimulate interest and exploration. The class is divided into five areas: Practical life, Sensorial, Language, Math and Culture.
Practical life exercises, in care on the self and the environment as well as lessons in grace and courtesy.
Sensorial exercises refine the senses through use of the materials.
Language curriculum balances a strong phonics approach which leads to early reading, creative story writing as well as an early printing program.
Math curriculum includes the manipulation of materials that are sequenced with concrete experiences leading to more abstract discoveries.
Culture, exercises expose the child to elements of History, Geography, Botany, Zoology and Science.
LOWER ELEMENTARY PROGRAM: In the Elementary classroom, the children are provided with the opportunity to fully discover their learning potentials, while receiving ongoing support for each of their academic, social and emotional needs. The multi-age classroom provides children with the broad opportunity to social development and enhanced learning. The curriculum areas include Language, Mathematics, Culture Studies, History, Geography, Botany, Zoology, Practical Life, Music, French & Physical Education.
Full day Casa
8:45am to 3:30pm
Half day Casa
MORNING: 8:45am to 11:30am
AFTERNOON: 12:45pm to 3:30pm
Lower Elementary Program (Grades 1 – 3)
8:45am to 3:30pm
Extended Programs
BEFORE SCHOOL: 7:30am to 8:45am
AFTER SCHOOL: 3:30pm to 5:30pm
Uniforms
Students in the Casa program are to wear the school uniform each day. We feel that wearing a uniform creates an enhanced school safety, encourages school spirit and pride. Uniforms can be purchased through our school office at the time of enrollment.